On Saturday, April 29th, Dinner at DebS is hosting a dinner party to benefit Forward Theater Company as part of their Feast Forward fundraising event, and we hope you'll join us!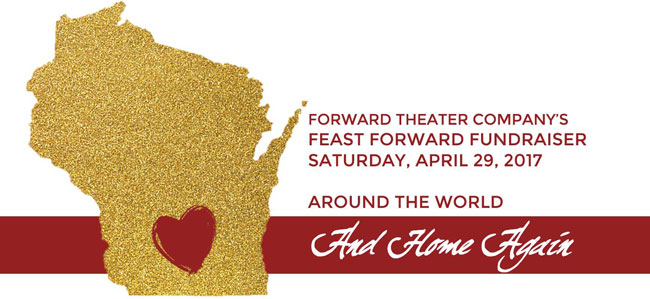 In the spirit of their "Around the World" theme, we're offering a World Tour in Food, and you can travel around the world and back home again by partaking from a buffet of appetizers featuring similar ingredients prepared and sourced from around the globe – and our own backyards! There'll be treats like:
Bacon-wrapped Texas BBQ shrimp;
Vietnamese shrimp spring rolls Chicken satay and tofu satay, with roasted red pepper and peanut dipping sauces;
very British potted shrimp;
Smoked Salmon from the Pacific Northwest;
Black bean & corn salsa with chips, inspired in California by way of Wisconsin and the Southwest;
cheeses, cured meats, breads, & crackers from France, Wisconsin, Norway, and California;
nuts, olives, and other crunchy & savory handfuls.
Following the 6:00 pm dinner at DebS, we'll gather at Overture Center with the hundreds of others who have been enjoying dinners all over the city for dessert, a silent auction, and an original Vaudeville show highlighting the sweetness of coming home.
The suggested donation to Forward Theater Company for all this fun is $50 – $150 per person, but donations of any amount are more than welcome.
Here's the link to RSVP and donate online, and here's the invitation in .pdf for downloading and printing if you'd like to donate by mail.
Funds raised will go towards the company's outstanding artistic and outreach programming.
Forward Theater Company is Madison's professional theater company in residence at Overture Center. They perform the best of modern theater that includes regional premieres, shows straight from Broadway, and other intellectually and emotionally engaging works that Madison audiences wouldn't otherwise have an opportunity to see. They value connecting with their audiences, serving our community by regularly partnering with other well-regarded non-profit organizations to serve broader audiences, and employing outstanding theater professionals who make their homes in our area. And, they're doing it all while building a fiscally strong and sustainable foundation.