You're invited to DebS for a series of homey, comfy, Sunday Suppers, featuring seasonal foods, as we lighten up into spring and almost-summer time.
Pick your favorite menu – or more than one! And sign up using this form – also under Contact Us, above. The deadline to sign up is the Friday before each dinner – Dinner 1,  April 26 cancelled; Dinner 2 – May 10,  sign up by May 8; and Dinner 3 – May 24, sign up by May 22.
Please contact your host, DebS, by email at ds83473@gmail, or by phone, 608-712-6368, if you miss the deadline to sign up, or have any other questions.
Thanks and see you at the table!
Dinner 1 – April 26
Cancelled due to low enrollment
See you at the next dinner!
Roasted root vegetables on a pillow of whipped goat cheese, with herbs & micro greens
Individual chicken pot pie or vegetable pot pie – savory meat and vegetables  under a golden pastry dome
Green beans almondine (or other vegetable, if something looks good at the market!)
Chocolate mousse served with whipped cream and Langues de chat – thin crispy cookies
Dinner 2 – May 10 – Special Mother's Day edition!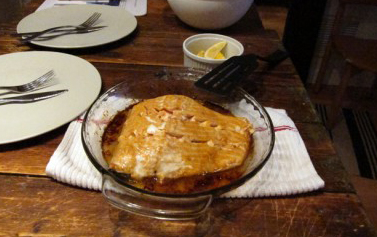 To begin: paté platter a la Cafe Flora – lentil-pecan paté, chicken liver paté, red onion confit, olives, pickles, breads
Your choice of broiled Salmon or Black Bean Cakes, served with cucumber dill sauce and lemon and lime wedges
Potato gnocchi with browned butter
Leafy salad – fresh greens, maybe asparagus, with a tangy, dried cranberry vinaigrette
Eton mess – strawberries & cream with crumbled meringues thrown in – we'll be using the UK National Gallery's recipe – rated in the top 3!
Dinner 3 – May 24, the night before Memorial Day
Chips & salsa
Carnitas – Locally raised pork, slow roasted with chiles
Chile-roasted carrots and new potatoes
Served with pickled onion and radish slaw
Frieda Kahlo's "Mexican flag" rice – green, white, and red
Fresh, homemade, flour tortillas for wrapping it all up in
Blueberry pie with cinnamon ice cream