Join us for a Sunday afternoon dessert buffet
February 15th, from 4:00 to 7:00 PM
Chase away the winter blues with a cozy afternoon of desserts and warm beverages. All your special someones are welcome, including kids.
We'll have key lime pie with a gingersnap crust, caramelized nut tart, hot chocolate with real whipped cream, cookies (maybe Dorie's jammers, top left above, or ruggelach, or, or, or … the possibilities are endless!) hand-dipped chocolates and other confections, and all sorts of tempting treats, including gluten-free choices, and a few that are not so sweet  – cut small, so you can try a lot!
NEW – because it's almost Mardi Gras/Fat Tuesday/paczki day – we'll be sure to have King Cake!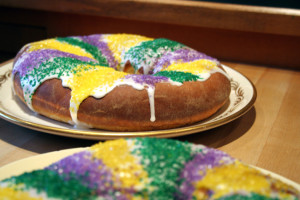 We'll serve everything buffet style, so stop in any time between 4:00 and 7:00.
If you'd like to have a glass of wine or spirits with your cake, please bring that yourself – non-alcoholic beverages will be provided.
If you'd like to come for dessert, please RSVP by filling out this form. The deadline to sign up online is Friday February 13th. Please contact your host, Deb, by phone, 608-712-6368 or email, ds83473@gmail.com  if you miss the deadline or have any questions.
Thanks!