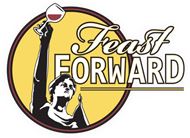 Appetizers:
Assorted canapes – small savory bites of cheeses, vegetables, and smoked fish piled onto bread and melba toasts
Swedish meatballs – no explanation required!
And the rest:
Wedge salad with roasted tomato and bleu cheese dressings
Choice of beef or mushroom Wellington – beef tenderloin or mushroom pate wrapped in puff pastry and served with Madeira sauce
Mushy peas – frozen peas mashed with butter and fresh mint – not a traditional 1960s side dish, but consistent with the 1960s spirit, dressing up packaged foods like frozen vegetables
Parker house rolls – soft, pillowy, buttery – Pepperidge Farm was served in my house growing up, but these will be home made.
Dessert:
Served downtown at Overture Center!