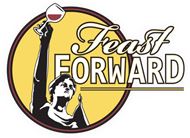 Unfortunately, this event has been cancelled due to a scheduling oversight
To benefit the Forward Theater Company, Dinner at DebS is hosting a dinner party on Saturday, October 11th as part of their Feast Forward fundraising event.
In the spirit of the Feed Me a Story theme inspired by Forward Theater's popular bi-annual Monologue Festival Out of the Fire: The Banned Books Monologues, I'll be hosting a 1960s themed dinner. My book selection is John Updike's Rabbit, Run, from the American Library Association's list of most challenged classics. You're encouraged to dress the part in your best 1960s attire. You can take a peek at the menu here or just scroll down!
If you'd like to come, please rsvp by filling out this form (also under the Contact Us tab above). Forward Theater will send you a link to make a secure payment of the suggested donation of $50 – $150 per person. All the money raised will go towards the company's outstanding artistic and outreach programming – I am donating the groceries and my time to prepare the meal.
Following the 6:00 pm dinner, we'll head down to Overture Center, to join hundreds of others who have been enjoying dinners all over the city, for dessert, a silent auction, and a saucy Vaudeville show.