Join us for a Feast of Fall Foods to celebrate School Woods 7th Birthday
[cancelled due to low enrollment]
Sunday, October 20th, starting at 6:30 PM. Please plan to arrive between 6:30 and 6:45 – we'll sit down to eat when all the guests are present. The main meal will be served family-style – platters and bowls passed around the table, so diners can help themselves.
The menu includes choices for poultry eaters, vegetarians and mostly-vegan.
Individual winter squash, cheese & tomato tarts – available in a vegan, no-cheese, version
Salad with honey-roasted pears, walnuts and reduced-cidar dressing
Long-rise baguettes with olive oil & balsamic vinegar
Choice of Herbed Tempeh steaks or Lemon-herb chicken breasts
Mashed potatoes with roasted vegetable gravy
Seasonal green side vegetable – greens, broccoli, beans – what ever looks best at the market
Cupcakes, including vegan chocolate, ginger cupcakes with cream cheese frosting, more flavors if there're a lot of diners!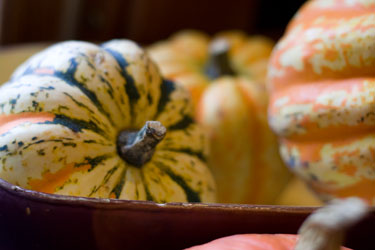 If you'd like to come to dinner, please sign up using this form (also under the members only tab above). The deadline to sign up online is Friday October 18th. If you miss the deadline, or have any questions at all, please contact your host, Deb, at 608-712-6368 or by email at ds83473@gmail.com
Thanks, and see you at the table